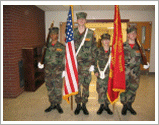 Keystone Young Marines
---
Call Today: 412-884-5893

Address:

3415 Lockridge Road
Pittsburgh, PA 15234
Visit Our Website
Overview:
Youth education program for boys & girls ages 8 - 18 focusing on character building through a combination of self-discipline, di
Year Established: 1775

Category: Military

Keywords: Young Marines, Pennsylvania, youth organization, Marine Corps, Semper Fi, self-discipline, discipline, teamwork, drug-free, USMC, Keystone


---
Payments Accepted
---
About Us
Mission The Mission of the Young Marines is to positively impact America's future by providing quality youth development programs for boys and girls that nurtures and develops its members into responsible citizens who enjoy and promote a healthy, drug-free lifestyle.

Young Marine Obligation From this day forward, I sincerely promise, I will set an example for all other youth to follow and I shall never do anything that would bring disgrace or dishonor upon God, my Country and its flag, my parents, myself or the Young Marines. These I will honor and respect in a manner that will reflect credit upon them and myself. Semper Fidelis.
Services
The Young Marines is open to all youth ages 8 through completion of high school. The only membership requirement is that the youth must be in good standing at school. Since the Young Marines' humble beginnings, in 1958, with one unit and a handful of boys, the organization has grown to over 240 units with 10,000 youth and 3,000 adult volunteers in 46 states, the District of Columbia, Germany, Japan and affiliates in a host of other countries.
---