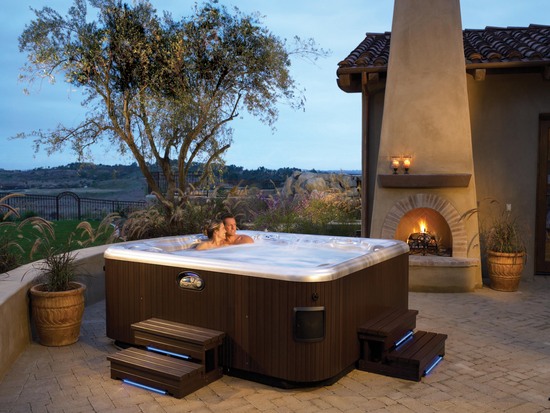 Vista
The Vista features 47 jets and two 2.5 horsepower jet pumps. Its extremely comfortable lounge accommodates a wide range of heights, while its corner seats deliver a variety of targeted back, wrist and calf hydromassage options.

The Vista hot tub includes the Moto-Massage® DX Jet and the BellaFontana® water feature. And our optional SpAudio® music system lets you feel the music.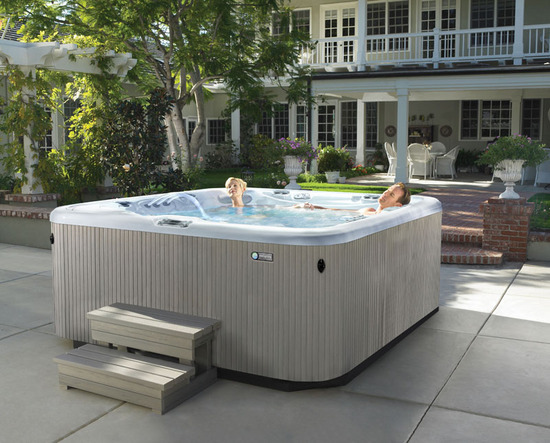 Grandee
The Grandee Spa, with its expansive, Barrier-Free design, provides plenty of room for a party of seven. Two Moto-Massage® DX jets let two people enjoy a terrific back massage at the same time. The BellaFontana® hot tub water feature adds to the overall ambiance, with three illuminated arcs of water where color dances.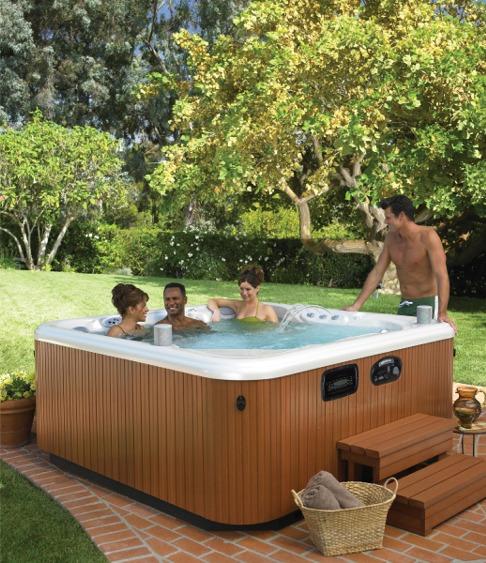 Aria
The Aria Spa is a Consumers Digest Best Buy! This model of hot tub includes exclusives like the Moto-Massage® DX jet and the advanced technology of our patented Tri-X® filters, along with special features like Precision® jets in the calf area of the lounge for enhanced hydromassage. The sleek cabinet profile adds a contemporary flair to any backyard. And to complete the Aria spa experience, you can relax to the sound of your favorite song playing on the factory-installed music system.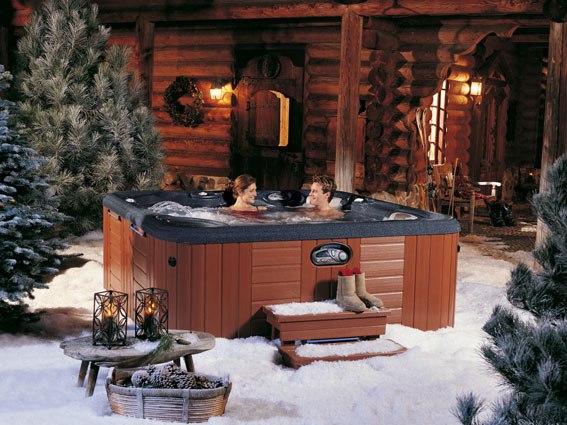 Envoy
The Envoy spa delivers outstanding performance with 39 jets, including the Moto-Massage® DX jet, and two 2.0 horsepower jet pumps. A comfortable hot tub lounge and a recliner seat with wrist and calf jets soothe and refresh. The three JetStream® jets in the FootWell® system provide exceptional foot therapy. Advanced Tri-X® filters keep the spa water clear and fresh.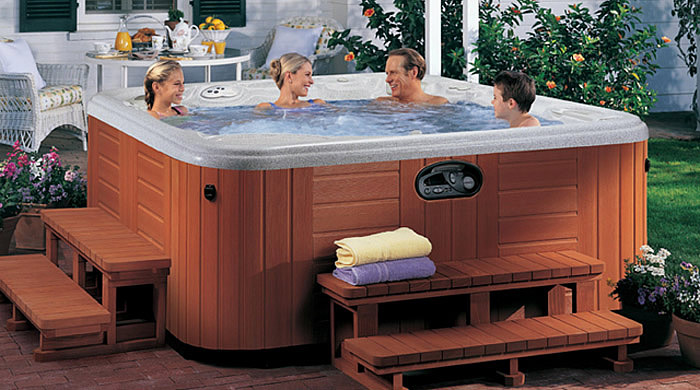 Vanguard

Previous Consumer Digest Best Buy
The Vanguard Spa is extremely energy efficient. This hot tub features a single Moto-Massage® jet and a Moto-Massage® DX jet, each complemented by a Quartet® jet system, to soothe your neck, shoulders and back. Its comfortable seating, styled armrests, and SoothingStream™ water feature provide maximum relaxation.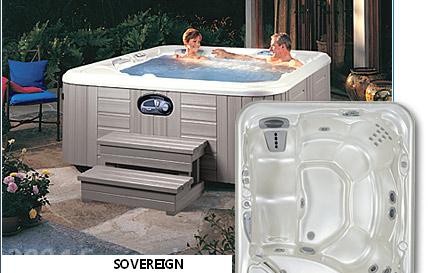 Sovereign
Previous Consumer Digest Best Buy
Roomy enough to treat you and five friends like royalty, the contemporary styling of the Sovereign spa makes a beautiful addition to anyone's castle. Its extra-long lounge, expansive Barrier-Free seating, extensive jet variety and SoothingStream™ hot tub water feature deliver a regal spa experience.

Theraport Sauna

Imagine having this complete Finnish sauna experience quickly, easily and wherever you like. And what's more, it is truly portable.
The Portable IG-720 comes complete and in just six panels. The Thera-Port comes in two halves that fit through any doorway. In a matter of minutes they are locked together using our exclusive latching system. Merely plug it into a standard 15 amp (1.7kW) or dedicated 20 amp outlet (2.1kW) and enjoy! There is no plumbing. There is no finishing work.
Both Portables come standard with an all-glass door. The sauna heater can be used wet or dry and delivers temperatures of up to 160° F, or more; a sprinkle of water on the rocks delivers plenty of relaxing steam.

Jettsetter
The Jetsetter Spa is perfect for one, two or three users. The lounge seat has a Moto-Massage® DX jet for your back, Precision® jets for your neck and shoulders, and a JetStream® jet for your feet so you can relax in style. Two Jet-Cluster™ systems in this hot tub provide additional hydromassage options.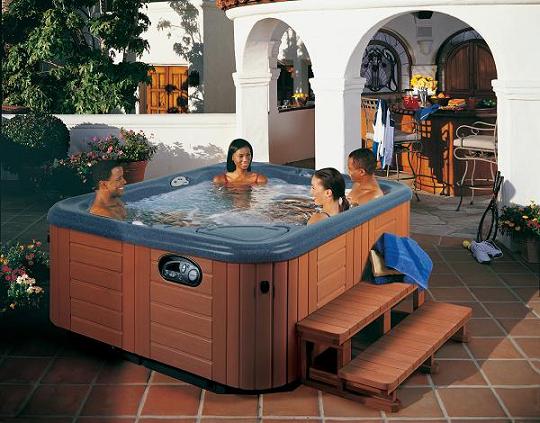 Prodigy

Previous Consumer Digest Best Buy
A spacious five-person spa, the Prodigy features a variety of jet configurations in six seating locations. From the soft yet penetrating full back massage of ten Precision jets, to the invigorating lower back massage of a powerful JetStream® jet, a customized hydromassage experience await

Aurora
The clean, contemporary styling of Finnleo's Designer Saunas make it almost impossible to believe they're from pre-fabricated panels. Choose from seven Designer styles, all from the finest Scandinavian whitewoods and carefully crafted to Finnleo's standards.

Custom Cut

Your personal design arrives pre-cut and ready to install.
A Finnleo Custom-Cut Sauna will meet your special needs. A special design or unique location doesn't mean you have to settle for less. The options are only limited by your imagination... innovative use of glass windows and doors, unusual angles, unique bench configurations — with a Finnleo Custom-Cut Sauna you can achieve them all. Your design, in partnership with Finnleo experience and quality, assures unmatched form and function.
Hand-crafted to your plan, we'll pre-cut the finest materials for your walls and ceiling, we'll pre-build the benches and door — all for final installation on your framed walls. Simply provide the inside dimensions of the framed walls, the door location and your preference for bench configuration — we'll do the rest. Need design assistance to overcome potential challenges? Just call, email or fax. We'll be there to provide free recommendations and CAD drawings.
Custom-Cut Saunas are perfect for new construction or remodeling: residences, hotels, corporate fitness centers, health clubs, apartment buildings.
Finnleo Custom-Cut Saunas are hand made using the highest quality Nordic Whitewoods for the walls and ceiling and Abachi for the benches, backrests, headrests, duckboards and heater guard — just like in the finest saunas of Europe. Finnleo's commitment to detail shows throughout the sauna, particularly in the bench construction. The benches are assembled from the bottom with stainless steel screws.
Custom-cut saunas include a Europeanstyle all-glass door (or choose from other Finnleo door options).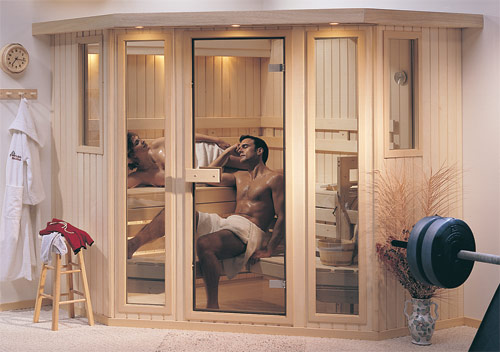 Moonlight
Each Designer Series Sauna has individually selected and finished boards. Finnleo's quality really shows through with precision finish doors and windows. Extensive use of glass and angles gives each sauna an open, contemporary feel. The European styling gives these saunas a striking touch of elegance.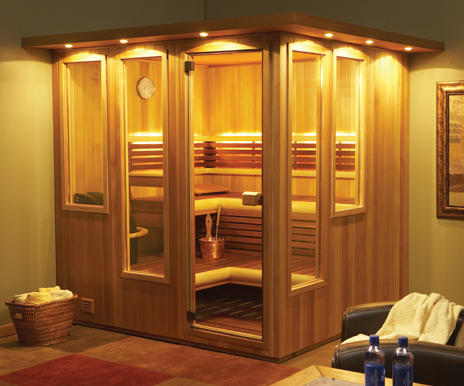 Mystique
Finnleo's Designer Series saunas are the most luxurious saunas available in North America. Loaded with upgrades integrated into fresh European design, these saunas are for those looking for the best.

Passport

Finnleo's Passport Series has quickly become known as one of the best values in traditional saunas. Several unique features make it one of the easiest saunas to own—easy to assemble with plug-in simplicity, yet loaded with upgrades usually found only in designer-type saunas.
Finnleo's goal was to create a value line of traditional Finnish sauna with ease-of-ownership features similar to our Infrared Sauna line.  The Passport Series has, remarkably, achieved those goals. All Passport Saunas include the following features:
Clear Canadian Hemlock interior and exterior
Exterior finished with biodegradable wood treatment for luxurious look and for ease in maintenance
Stereo/CD sound system
Ceiling Overhang with integral puck lighting
Interior low voltage lighting & color therapy lighting
Built-in floor with vinyl surface
Simple hook & pin panel design; easily installs in less than an hour
Stainless steel heater
Digital controls
4 sizes available (4x6, 5x5 corner, 5x7 and 6x6 corner)
Patio

Finnleo's new Patio sauna is designed for today's busy, transient society. It can be delivered and in place in minutes — rather than hours.
The Patio sauna combines the popular characteristics of the Sisu series and the Thera-Port. These full-sized saunas are truly portable, two-piece units. All Patio saunas come pre-built in two pieces, designed to be locked together with integral cam- latches — for easy assembly in a matter of minutes. Unlike the Thera-Port, Patio saunas are not plug-in, but need to be hard-wired by an electrician. The Patio sauna comes in four sizes:
4' x 5' and 4' x 6' saunas can fit through a 26-inch doorway; 5' x 6' and 5' x 7' will fit through a standard 32-inch doorway. Custom sizes are also available. The saunas come standard with cedar runners, so that they may be placed outside (pool decks, patios, etc.). When used outdoors, the saunas require the addition of a roof kit, or they must be placed under cover. Portability, exceptional quality and easy installation make these a sauna lover's dream. What a great complement to a pool or spa.
.

Sisu

Finnleo's Sisu series has become the "Classic" of the sauna industry. With its precise design, exceptional materials, and carefully crafted expertise, the Finnleo Sisu Sauna has become the respected name in saunas — experience it for yourself.
True to tradition, Finnleo saunas are made in the Finnish style of exclusive fine-grained Nordic White Spruce. Sisu rooms are light and well ventilated, with a subtle scent of deep Finnish forests. Abachi is used extensively throughout the sauna — wherever the bather's skin touches wood — on benches, backrests, headrests, door handles, etc.
Abachi wood remains comfortable to the touch even at high sauna temperatures, and also resists stains and odor absorption, has no knots and no splinters; it is the ultimate sauna bench material, and is used in the finest saunas of Europe.
Finnleo Sisu offers unlimited designs from personal size saunas to large club size saunas, making it the ideal choice for any use. Custom designs and sizes are available as well. Optional wood choices include clear Western Red Cedar, and premium grade clear Canadian Hemlock.

Far-Infrared Sauna Series B
Far-infrared saunas are perfect as "heat therapy rooms" for athletes looking for a pre-workout warm-up— to warm up muscles and increase flexibility, helping to prevent injury. It's also ideal for pre-warm-up for physical therapy and massage therapy, or for a relaxing wind-down at the end of a stress-filled day.
Infrared Sauna Series E
A Finnleo Infrared sauna provides soothing heat, directly radiated to the body, with almost no time waiting for preheating. The far-infrared radiant heat induces a deep sweat — for cleansing and detoxifying the body and for burning calories.

Infrared Sauna Series G

12 models to choose from:
Finnleo Far-Infrared saunas incorporate the latest farinfrared technology, using a wall-to-wall infrared heater system, for the longest wavelength and the most comfortable and complete body-surrounding heat. Finnleo's flatpanel carbon-fiber IR heating system literally envelops the bather with soft and comfortable heat, avoiding uncomfortable "hot spots" and "cold spots" found with other IR systems using individual ceramic or metallic IR heaters. Select from six models.