B & K Heating and Air Conditioning of Dayton is a family owned and operated business founded in 1976 by Cecil & Pam Bowen in Huber Heights. We have earned our reputation by providing professional, high quality and friendly service and by treating our customers like family. We have been keeping our satisfied customers comfortable all year round by installing and maintaining quality Trane products to our Dayton area customers, and servicing all the other makes and models.
In 1999 we became a CERTIFIED charter member Trane Comfort Specialist Dealer. That means you can count on our expert knowledge of furnaces, air conditioning systems, heat pumps, humidifiers and air cleaners. We have the skills, knowledge, experience and training to meet and exceed your expectations. We meet the highest performance standards in the business and that is from our employee training to our customer care.
NATE Certification is a nationwide certification program for HVAC-R technicians working in the light and residential commercial market. Supported by the entire industry across all levels -- manufacturers, contractors wholesalers/distributors, educators, engineers, and technicians themselves -- NATE Certification is a voluntary program designed to recognize truly capable and excellent HVACR professionals.
B & K Heating and Air Conditioning, Inc. of Dayton, meets the highest performance standards in the business - from employee training to customer care. We provide the very best furnace service and installation of heating and air conditioning equipment in both residential and commercial facilities throughout the entire Miami Valley.
We are fully qualified to help you select the comfort system that best fits your home and your budget. We specialize in Furnace Repair, Furnace Installation, Air Conditioners, Heat Pumps, Hudimifiers and Air Cleaners. We service all makes and models of furnaces, heat pumps, air conditioners, humidifiers and air cleaners. Contact us to schedule a Free In Home Consultation today!
Our technicians are at your service Monday through Friday 8:00 am to 9:00 pm and Saturdays from 8:00 am to 12:00 pm Emergency services available after these hours and weekends.
B & K Heating in Dayton Services All Makes and Models of Furnaces, Heat Pumps, Air Conditioners, Humidifiers and Air Cleaners.

B & K Heating and Air Conditioning, Dayton is your Authorized Trane Comfort Specialist Dealer.

Furnace Installation - A Trane furnace is built to our standards, so we know it will exceed yours. Trane is a leader in the industry. We service or repair all makes and models of funaces. We will keep you warm on those cold Ohio winters. Call us today to schedule a Free In Home Consultation Today!

Furance Repair - Any Make and Model of Furnaces are Repaired. Dayton's Best Residential and Commercial Heating & Air

Furnace Check Up Time - Clean and Check

Heating, Dayton - If you would want your heating checked and ready for the winter call now. We may even have an early bird special.

Free Inhome Consultation today! Winter is coming and it's check - up time!

Trane 80 and Trane 90 Gas Furnaces
We offer both 80 and 90 efficiency furnaces.
Our most popular models are the XV95 & XC95 Gas Furnaces.
Heat Pumps
Trane XLi Heat Pumps
Trane XLi Heat Pumps fill your home with comfortable air. We offer the XL15i, XL16i and the XL20i Trane Heat Pumps.
Our most popular models are the XL16i and the XL20i Heat Pumps.
Cooling Systems
Air Conditioning
Trane XLi Air Conditioning Units
We offer the XL15i, XL16i and the XL20i Trane Air Conditioners.
Our most popular models are the XL16i and the XL20i A/C Units.
We also offer and service: Humidiers, Air Cleaners and filters.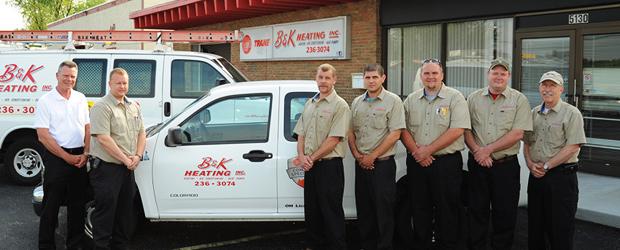 B&K Heating Staff

Welcome to B&K Heating Inc. We look forward to meeting all of your heating and cooling needs.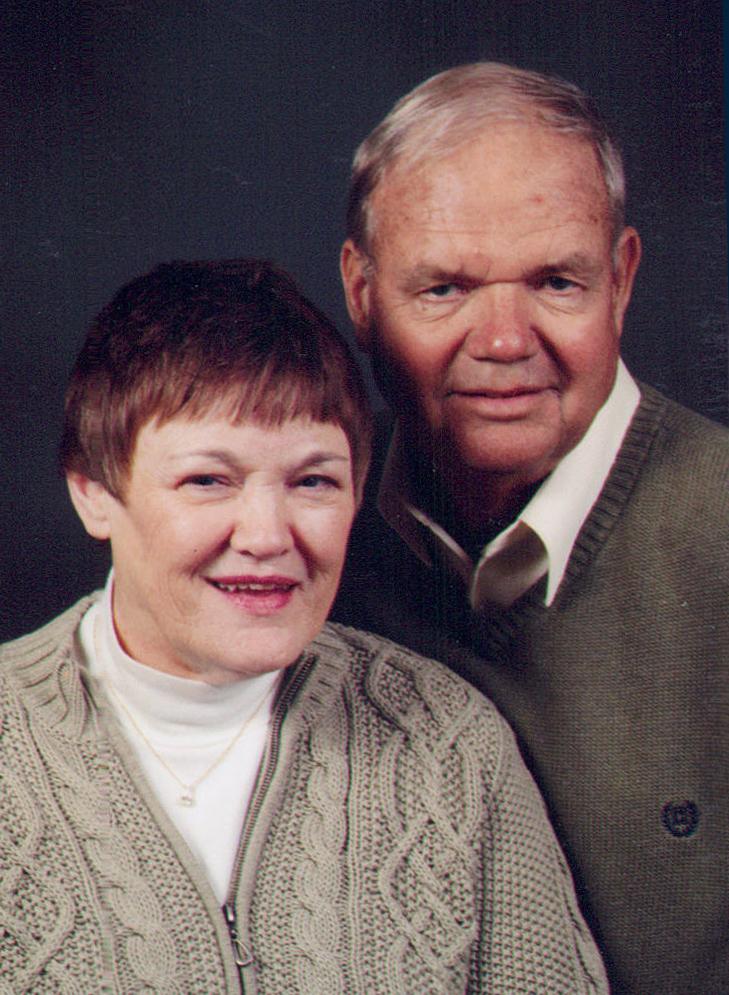 Pam & Cecil Bowen

Pam and Cecil Bowen started B&K Heating Inc. in 1976. B&K Heating Inc. has been in business for 36 years and counting. We are a family owned business.
TR XC95m Gas Furnace

Communicating technology in a fully modulating furnace for the ultimate comfort and greater efficiency. The advanced ComfortLinkâ"¢ II allows the XC95m to constantly calibrate itself for optimal performance year after year.
Up to 95% AFUE
Communicating capability
Fully modulating heat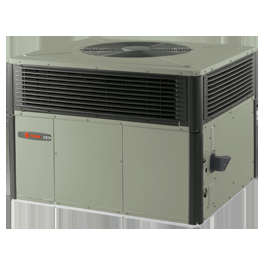 TR XL16C GE All-in-One

The XL16c combines a high-efficiency air conditioner with a variable-speed gas furnace, maximizing your comfort from summer to winter and back. And it's all contained in one sleek cabinet.
Efficiency up to 16.60 SEER and 80% AFUE
Two-stage Climatuff® compressor
Gas/electric heating and cooling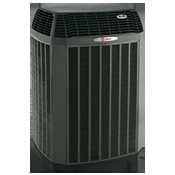 TR XL20i Air Conditioner

From the hottest days to the coldest nights, the XL20i is designed to perfectly cool your home in the summer and perfectly heat it in the winter. And when paired with ComfortLink™ II system, it's all at your control from anywhere.
Up to 19.00 SEER, 9.00 HSPF
Communicating capability
Dual-stage heating & cooling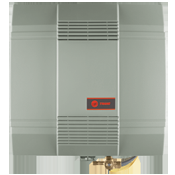 TR THUMD500 Humidifier

Temperature is just one factor in total home comfort, especially in dry weather. A Trane humidifier provides the right amount of moisture in every room, and can help alleviate allergy symptoms.
Total home power humidifier
Homes up to 4,200 sq. ft.
Up to 18 gallons/day output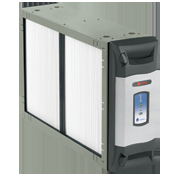 TR CleanEffects Air Cleaner

Trane has always been an industry leader in home comfort. Now, we're setting a new standard for clean indoor air with the revolutionary Trane CleanEffects™, the world's most effective whole-house air filtration system.
Up to 99.98% allergen removal
Industry-leading air cleaner
Cleanable reusable filter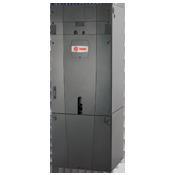 TR Hyperion XL Air Handler

Helping to circulate better air, the Hyperion™ air handler is built unlike anything the market has ever seen. For one thing, it's constructed more like a refrigerator, with insulation between the double walls of the uniquely designed cabinet.
Unique modular cabinet design
Communicating models available
Variable-speed blower motor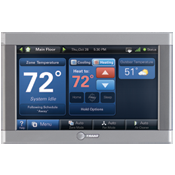 TR ComfortLink II Smart Contro

This is not just a thermostat. It's an energy command center. Trane ComfortLink™ II is an easy-to-use, programmable control that gives you remote access, live weather and more, all on a beautiful color touch-screen display.
7" interactive touch-screen
Live weather forecasts
Internet-enabled access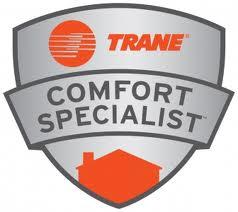 Trane Comfort Specialist Deale
In 1999 we were proud to be certified as a chatter member Trane Comfort Specialist Dealer.