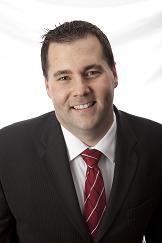 Patrick Conley, President
Patrick Conley is the President (Co-Founder) of the
RMC Memorial Foundation
, Inc. The foundation is a 501c3 non-profit foundation that creates awareness of organ donation and benefits local children facing organ transplantation.
Patrick and his wife, Jennifer, founded the RMC Memorial in 2009. The vision for the foundation began when Patrick's father Robert passed away in 2002. Robert was unable to receive a liver transplant due to financial and medical complications. Then in 2009, Patrick and Jennifer's flower girl, Sierra received a liver transplant and a new lease on life. The transplant brought new H.O.P.E (Helping Others Enjoy Life) to their families and the foundation was formed. Today the foundation runs an annual event (H.O.P.E Golf Classic) to raise funds and provide financial benefit to random Pittsburgh families.
In addition, he is the Sales & Marketing Manager, of Hadad R.E. Services, Inc. and President of Conley Consulting, Inc., an independent firm providing marketing research, project management, and marketing strategies to the contracting industry. Growing up in the family owned business Patrick had various roles including laborer, painter, maintenance and remodeling technician, supervisor roles, lead estimator and project manager, and sales and marketing manager. Hadad Services has become a premier provider in Southwestern, PA for many national companies, major real estate companies, commercial, residential and uniquely has become the #1 referred health hazard restoration company (hoarding cases). In 2010 Patrick was recognized by the Monroeville Area Chamber of Commerce as the 2010 Young Business Leader of the Year.
Finally, Patrick has received his bachelor's and M.B.A with a concentration in Marketing and Consumer Behavior from Indiana University of Pennsylvania. While completing his degrees, he had the opportunity to work with ABC's ESPN Radio and Five Star Resort - Nemacolin Woodland's Resort and Spa. At both companies he worked directly with the Sales & Marketing Departments finishing out his degrees.