Introduction
Printed materials drive your business. You need a printer that meets your needs for a fair price, top quality–and getting the job done on time.
For over 100 years, Trust-Franklin Press has provided high levels of service and value to Pittsburgh designers, print brokers, small businesses, large corporations and churches, synagogues, schools, colleges and other nonprofit organizations.
A family business since 1908, Trust-Franklin Press is led by owner Gary Friedman, who continues the tradition established by Ralph and Simon Trust and by his father, Milton Friedman, for customer-focused, quality one- to four-color printing.
Company Culture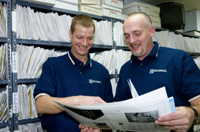 Vision Statement
Trust-Franklin Press Co. is a multi-service printing firm committed to providing our customers with products and services that meet and/or exceed their expectations.
Our employees strive to work closely with our customers to establish realistic expectations of cost, quality, and delivery time. We will help our customers understand the ways in which printing can be done efficiently. We are dedicated to creating a quality work environment for our employees based on mutual trust and singleness of purpose.
Guiding Principles
One of Pittsburgh's oldest printing companies, Trust-Franklin Press was founded in 1908 as Trust Printing Company, launched by Simon and Ralph Trust.
In 1947, Milton Friedman bought the company and added "Franklin" to the name in tribute to Benjamin Franklin. Milton built the business through hard work and attention to customer satisfaction.
In 1980, Milton's son, Gary, joined the company as a sales representative. Gary has built on the legacy of the Trust brothers and his father, continuing the tradition of customer service while introducing digital technology and larger, four-color presses to the company's capabilities.